The dream of the 90s is soon to no longer be alive in Pittsburgh. Or at least not at the Pittsburgh International Airport. This afternoon, the Allegheny County Airport Authority, which manages the airport, announced a $1.1 billion "Terminal Modernization Project". The major project will reconfigure the airport, which is currently split into separate "Landside Terminal" (check-in, security, baggage, and rental car facilities) and "Airside Terminal" (gates and most AirMall shops) buildings. Currently, post-security, you take an automated tram from one building to the other.
The new plan eliminates the separate Landside Terminal building entirely. All facilities currently in the Landside Terminal building will be moved to a large, new addition to be directly built onto a reconfigured Airside Terminal.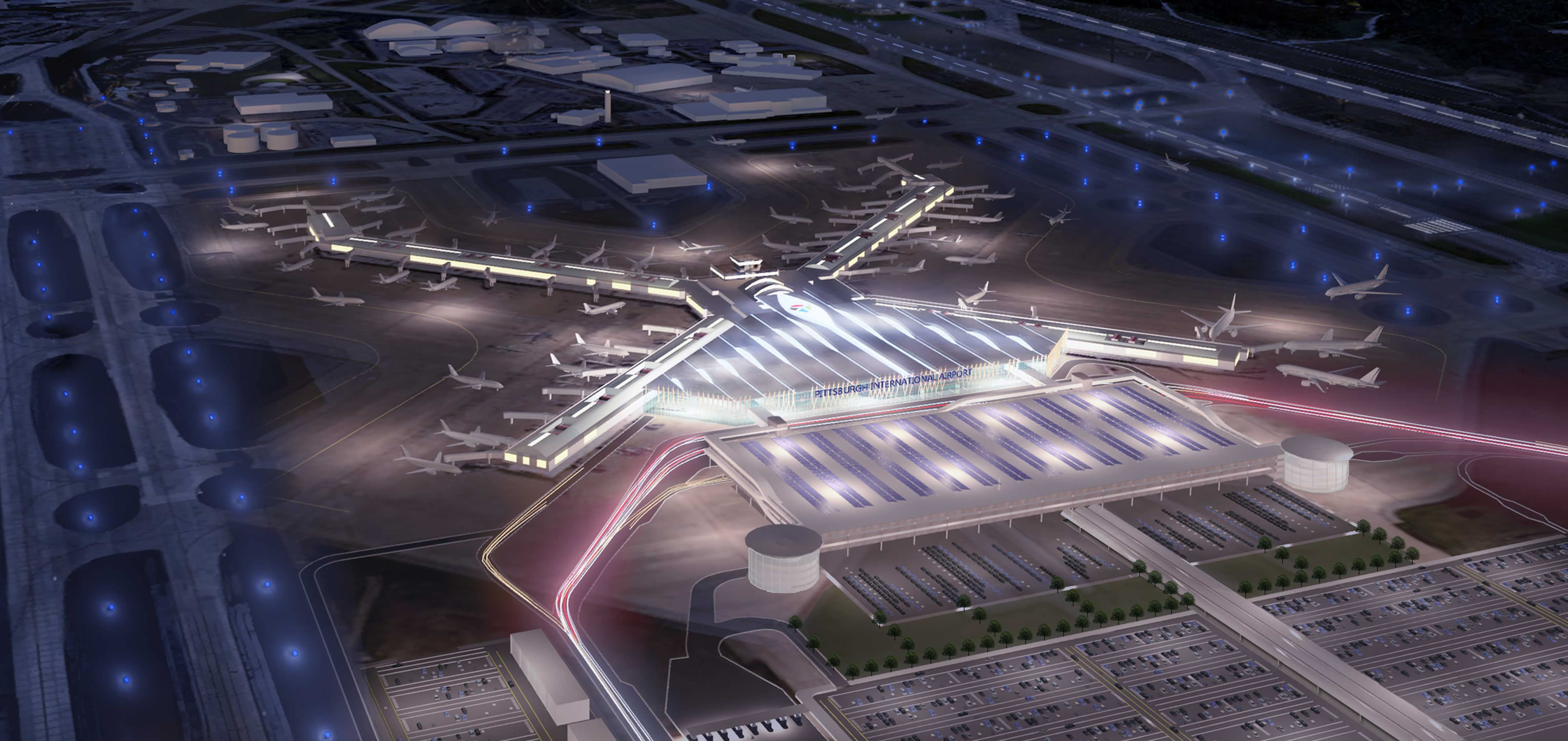 About that "dream of the 90s" reference? The current Pittsburgh International Airport opened in 1992, replacing "Greater Pittsburgh International Airport" (or "Greater Pitt" as it was sometimes locally referred to), located on the northeastern corner of the current airport property. It was built with a capacity of 100 gates, a size justified by its role as a hub airport for USAir (renamed US Airways in 1997). Several design decisions, beyond just the large gate count, were made because of its role as a primary hub. One of these include an interesting situation for international travelers where you would have to pick up your baggage the pass through customs, then re-deposit and have your bags re-screened. If your travel terminated in Pittsburgh, your bags would then be handled a second time by your airline to deliver them to the baggage claim in the Landside Terminal building.
After 9/11, US Airways faced some major financial difficulties after after unsuccessful negotiations, pulled out of PIT as a primary hub in 2004. Many gates went disused in the years following, eventually prompting the Airport Authority to erect walls to shut off sections at the end of some terminals that were completely unused. The "E" terminal, used for commuter aircraft and (somewhat ironically) attached to the Landside Terminal Building, was completely demolished in 2011, expect for a small area currently used as a second security checkpoint.
Another feature of the Pittsburgh airport lost after 9/11 was the novelty of being able to shop at the AirMall even if you weren't flying. This was most useful as a way for family or friends dropping someone off or picking them up to pass some time at the airport. However, post-9/11 security required all persons passing through security to have a valid boarding pass, eliminating this amenity to non-travelers.
The "modernized" airport should be a great upgrade to a growing, vibrant region. In addition to surely upgraded lighting and signage (which I'm actually almost most excited for, to be completely honest), the airport will be "right-sized" to a capacity of 51 gates, 11 more than the 40 currently in use. I'm assuming the large new entry will enable the possibility of more than one and/or larger security screening areas. PIT always seemed like a bit of an outlier compared to most mid-size to large airports by really only providing one security line. The elimination of the people-mover and reduced number of gates will hopefully make it faster and easier for people to get to their gate as well.
A modern entrance to the airport will also be a welcome facelift as Pittsburgh continues to re-invent itself in the 21st century. Naturally, some noise was made that this plan was announced just days after the region was cited as a potential spot for Amazon's new HQ2 headquarters. While I'm not entirely sure the two events are directly correlated, having plans to modernize the city's international airport surely won't hurt Pittsburgh's bid.
.@PITairport unveils $1.1B new terminal project. Leadership comments, "We could name the new terminal 'Amazon'." https://t.co/rRMiStLrGh pic.twitter.com/hCiGAhXZna

— Justin Meyer (@JustinMeyerKC) September 12, 2017
There are only two small things I'll miss with this new airport. First, it's not clear in the renderings released so far if the new entry building will keep something of the airfoil-shaped roof currently architected into the airport design. It's a neat element that would separate it from just the flat rooflines and glass commonly used in other airport.

Secondly, with no more people mover, who will welcome us to the City of Pittsburgh? (Currently Mayor Bill Peduto, and I believe someone else, provide voiceovers during the 90 second-long ride between terminals). Thankfully, the Airport Authority has confirmed Franco Harris and George Washington are staying put, and maybe in 2023 we'll still have a T-Rex to greet you with some Pittsburgh Pride.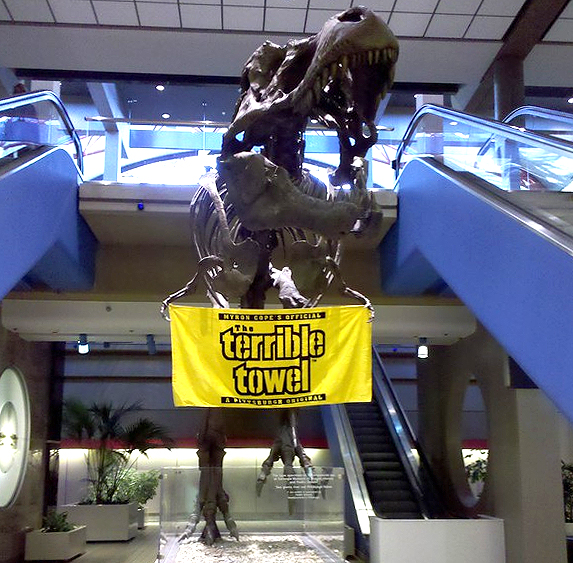 Facts sourced from Wikipedia, NextPittsburgh, and PITTransformed.com
New airport renders courtesy of Allegheny County Airport Authority, Landside Terminal photo courtesy Wikipedia, T-Rex photo courtesy Boring Pittsburgh