May 31: Pennsylvania's Worst Historic Weather Day
This post was originally published on psuchase.org.
Generally, severe weather season in Pennsylvania occurs later in the year than it does out in the Plains and other parts of the country, with the peak of severe weather season usually occurring in mid- to late-June, climatologically speaking. However, if there's one day of the year when memorable damaging weather seems most common in Pennsylvania, that day would be May 31. Here's a sample of four severe weather events that have all occurred, mostly in Western Pennsylvania, on May 31sts.
1889: Johnstown Flood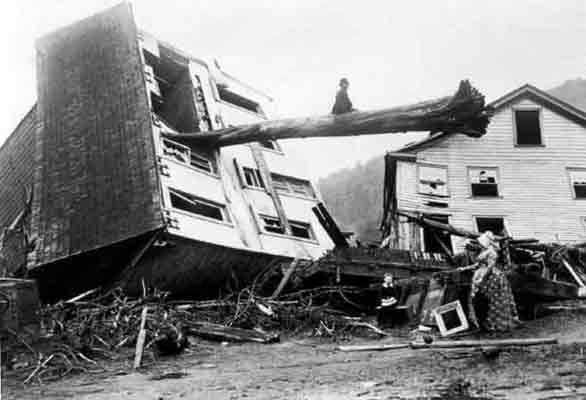 Today marks the 125th anniversary of one of Pennsylvania's most historic and notable disasters - the Johnstown flood (known locally as the Great Flood of 1889). A large storm had dumped nearly 6 to 10 inches of rain, the previous day according to the US Army Signal Corps (still responsible for a large portion of meteorological observations in the 1880s). The rain overnight was enough to cause severe localized flooding, with the Conemaugh River to already nearly overcome its banks by daybreak. Meanwhile, 14 miles upstream, local residents were concerned by the amount of water that almost overwhelming the South Fork Dam. They worked throughout the morning to try and free the clogged spillway to reduce pressure on the dam, but their best efforts were still futile and less than two hours after they abandoned their efforts, the South Fork Dam collapsed at 3:10 PM. A telegraph had been sent from the town of South Fork to Johnstown twice, trying to warn officials of the impending dam break, but these messages were ignored, as previous warnings had proven to all be false alarms.
The torrent of water, now heading downstream with flow rates approaching that of the Mississippi River, according to recent studies, rushed its way towards Johnstown, destroying houses and businesses in the towns of South Fork, East Conemaugh, and Woodvale. The flood reached Johnstown nearly an hour after the dam broke, causing catastrophic damage and creating a pile of rubble at the Stone Bridge downtown covering 30 acres and 70 feet tall. In all, 2,209 people lost their lives in the Great Flood of 1889 and the flood caused more than $17 million in damage. It was the first major disaster to be served by the newly-formed American Red Cross.
For more, check out the Johnstown Flood Museum (online and/or in person!)
Source: Wikipedia (Photo: ExplorePAHistory.com)
1985: PA's Worst Tornado Outbreak and Only F5 Tornado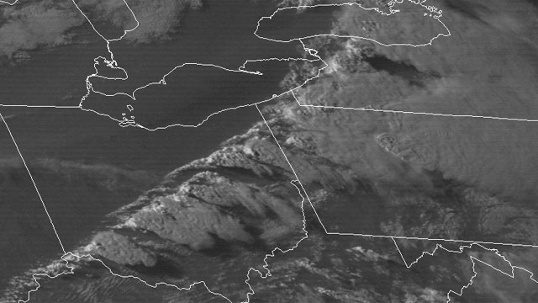 The worst tornado outbreak to ever strike eastern Ohio and Pennsylvania occurred on May 31, 1985. A ripe environment in place throughout the day finally gave way to storms by late afternoon. The National Severe Storms Forecast Center (the precursor to today's Storm Prediction Center) issued a tornado watch at 4:25 PM. Within half an hour, a tornado was spotted near the PA/OH border near Erie county, moving into Albion, PA, where nine people lost their lives. At 6:30 PM, a tornado touched down in Portage County, Ohio and quickly strengthened into a powerful twister. By the time it crossed into Pennsylvania near the town of Wheatland, Mercer County, it was nearly a half-mile wide F5 monster.
Tornadoes destroyed buildings and lives on a stretch from nearly Erie to Beaver, PA, and by the time all was said and done, 65 individuals had lost their lives in Pennsylvania alone. Another tornado tore across central Pennsylvania on that day, leveling more than 90,000 trees in the Moshannon/Sproul State Forest. A debris ball was even visible on the primitive WSR-57 radar in State College with so many trees being tossed around in the air as the tornado ran a track parallel to Interstate 80 sixty-nine miles long.
For more information on this outbreak, I highly recommend the book Tornado Watch Number 211 by John G. Fuller.
Sources: Wikipedia | Pennsylvania Highways Feature (Photo source: WCVB slideshow)
1998: A Derecho in Northern PA, Tornadoes Rock Many Other Counties Across the State
On May 31, 1998, another very unstable environment was present across Pennsylvania. With a warm front lifting northward and the jet stream present overhead, deep, strong shear was present, along with high levels of instability. An F3 tornado touched down in Somerset County and stayed on the ground for 15 miles, stretching up to half-a-mile wide at times. The tornado struck the towns of Salisbury and Pocahontas, destroying a furniture factory and house, a significant part of the $4 million total in damages. Tragically, there were 15 injuries and one fatality - a 13-year-old girl killed when a tree struck her car.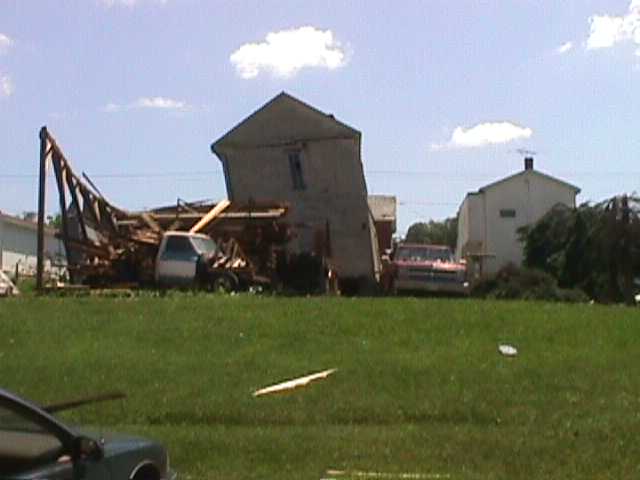 Tornado damage in Somerset County, PA
In the eastern part of the state, an F3 tornado caused more damage to many homes in Berks County. Several more weak tornadoes touched down across the state on May 31, 1998, with touchdowns recorded in Elk, Chester, Lackawanna, Luzurne, Lycoming, Montgomery, Pike, and Wyoming counties. Non-tornadic damage was severe as well, with a bow echo flattening trees and causing damage across Pennsylvania's Northern Tier (not far from where the F4 tornado struck in 1985), leading to significant damage in Williamsport, PA as well.
Source (including photo): http://www.angelfire.com/pa/pawx/053198/053198.html
2002: Microburst Causes Fatal Damage at Pittsburgh Amusement Park
A cold front associated with a strong, mature low pressure system pressed through the Pittsburgh region on the evening of May 31, 2002. As the line crossed through Allegheny County, a microburst occurred near West Mifflin, near the amusement park Kennywood. The Whip, an 84-year-old ride at the park, collapsed when the microburst struck, killing one woman and injuring 54 others. This storm was subsequently tornado warned in Allegheny and Westmoreland counties, but no tornadoes were confirmed from this storm. Regardless, a significant amount of wind damage was reported across southwestern PA.